Who We Are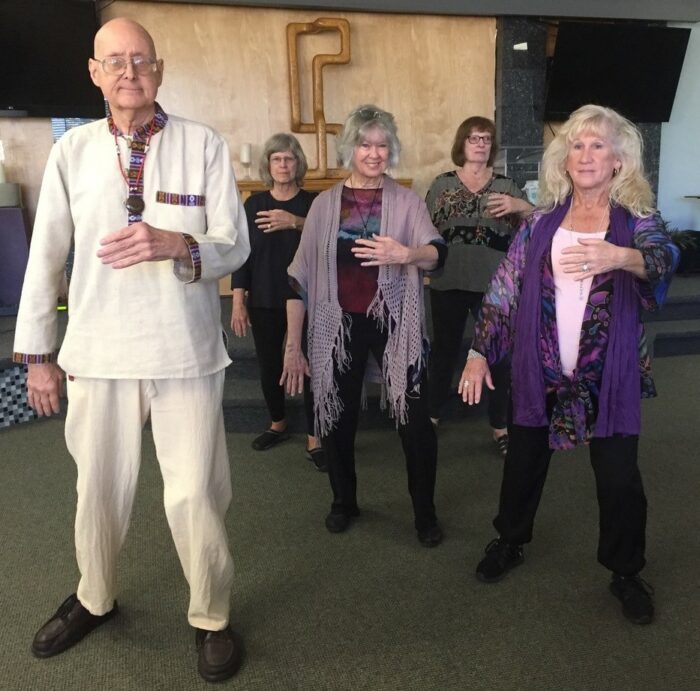 Tai Chi Circle of the Desert is comprised of certified sifus (teachers) and students who practice the traditional Yang Family 108 Long Form, originally brought to the desert by Master Pao Peter Lee and continued through the efforts of Sifu Noel and Sifu Lu. Our vision is expanding joy, health and longevity through tai chi. Our mission is to enhance health and fitness, relaxation, self-protection, and balance in the body and spirit through the practice of tai chi.
All members of the group share a common respect for the form and traditions, as well as the Warrior Code, which was the code of all ancient warriors until highly technical warfare upset the balanced perspective. The code prevails always……..to be of service to others and protect those who are in danger or unable to defend themselves. It can never be replaced or usurped by anything.
Students of all ages and experience levels currently enjoy tai chi in the desert. Whether you are looking for an introduction to tai chi or to become a lifelong practitioner, the Tai Chi Circle of the Desert welcomes your interest!
Our Lineage
Tai Chi Circle of the Desert is rooted in 108 traditional Yang form lineage brought to the Coachella Valley by Master Lee (1917 to 2004) in 1985. He learned from his grandfather Wan Tsou.
Pao Peter Lee (1917-2004) brought the 108 Yang family form to Palm Springs when he opened the Flower Drum Restaurant. He presented cultural programs and traditions on a regular basis. Master Lee was born in Beijing and raised in the province of Wuhan. His grandfather, Wan Tsou, was an author, scholar, and Dean at Hupei Teachers College. Wan Tsou was a great influence on Master Lee. He taught him Tai Chi and gave him his name which means, "Give help to people without expectation of return as a spiritual form of pursuing happiness." Wan Tsou learned the form from the disciples of Yang Lu Chan, the "Unsurpassed," who is said to be the Father of the Yang Family Form (1799-1872).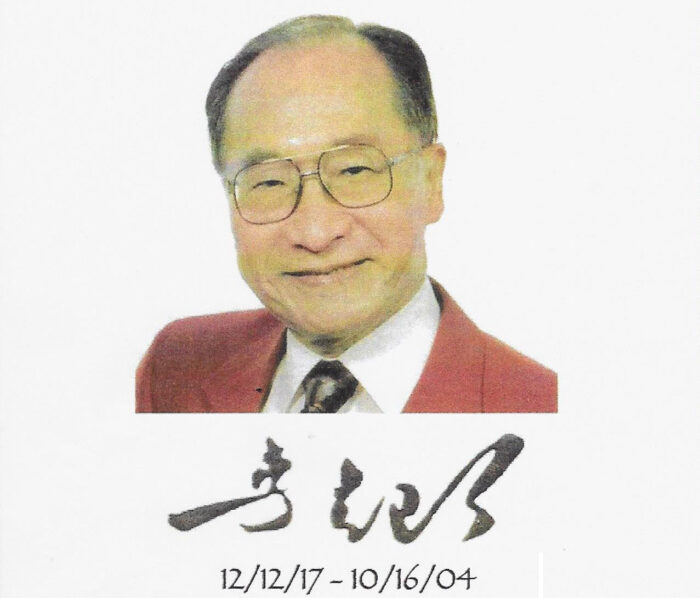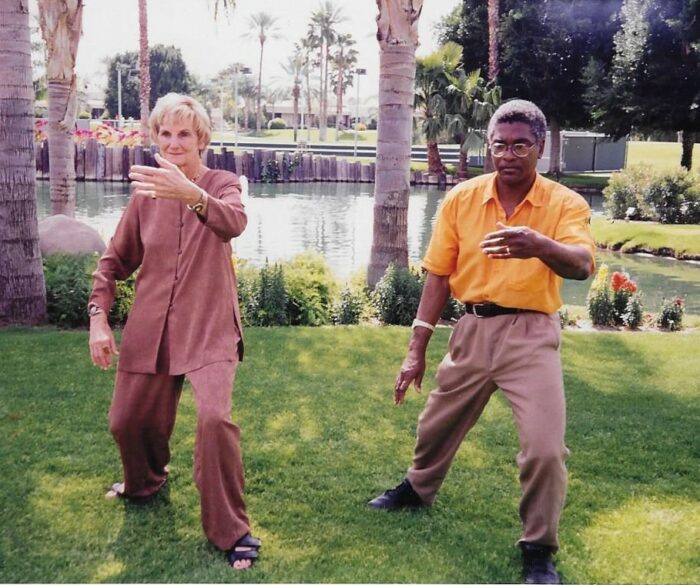 A scholar, progressive thinker, and active provider of community service, Master Lee taught with love and respect rather than a desire for fame or personal gain. He viewed tai chi as a respectful and honorable tradition that could offer peace and relaxation to people throughout the world. He truly lived in the spirit and principles of tai chi.
Master Lee had two students who were instrumental in spreading tai chi throughout the Coachella Valley: Sifu Noel Pittman, who had studied in the Chen Meng School in New York, and Sifu Lu. Sifu Lu offered Tai Chi with Lu for 17 years until reorganization as Tai Chi Circle of the Desert.
Sifu Master Noel (d. 2021)
Sifu Master Noel brought an extensive professional and martial arts background with him when he relocated from New York and became certified by Master Lee in the 108 Yang traditional tai chi form. When due to health concerns, Master Lee ceased teaching his students, Sifu Noel assumed the role of completing the instruction of Sifu Master Lu. He provided guidance and classroom experience in her journey toward certification to teach. After years of dedicated service to teaching and promoting traditional tai chi in the Coachella Valley, he relocated to Northern California for the remainder of his life.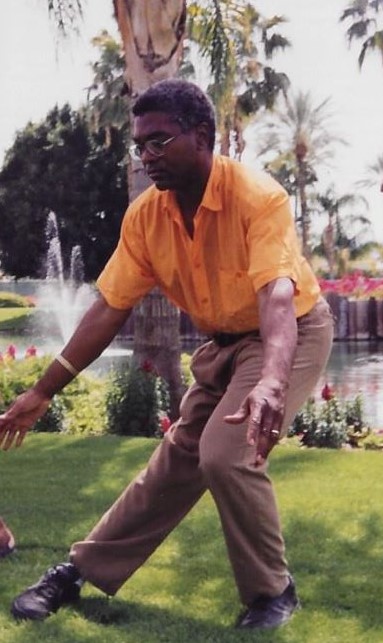 Sifu Master Lu
Sifu Master Lu has practiced Yang family form in the Coachella Valley for 25+ years. She was instructed and certified by both Master Lee and Sifu Master Noel. Since certification in Yang 108 traditional form in 2000, she has committed to increasing the understanding, appreciation and practice of the traditional Yang family form tai chi form brought to the valley by Master Lee. She has also continued study of tai chi in workshops and classes here and in China, and other energy practices including Qi gong and healing touch.
Tai Chi With Lu reached thousands of individuals and students with an interest in energy practice, and Sifu Master Lu guided 16 students on the pathway to teaching certification. This growth in the Tai Chi Circle of the Desert is now appropriately reflected in the current website.
Our Chi Master, In Memoriam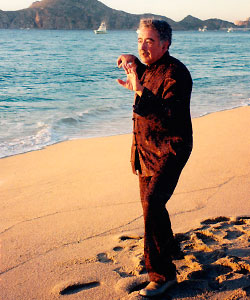 The late Tony Gutierrez, the co-founder of Tai Chi with Lu, served as Master of Chi in all classes and activities to advance the practice of traditional tai chi in the desert.
He brought two decades of professional experience in massage therapy and Reiki to the study and practice of tai chi and qi gong. He studied at workshops around the world, including international seminars in China. For the last five years of his life, he was a warrior fighter in Rock Steady Boxing for Parkinson's. Tony was a source of constant love and inspiration to students and a model of protocol, respect, and service.
Timeline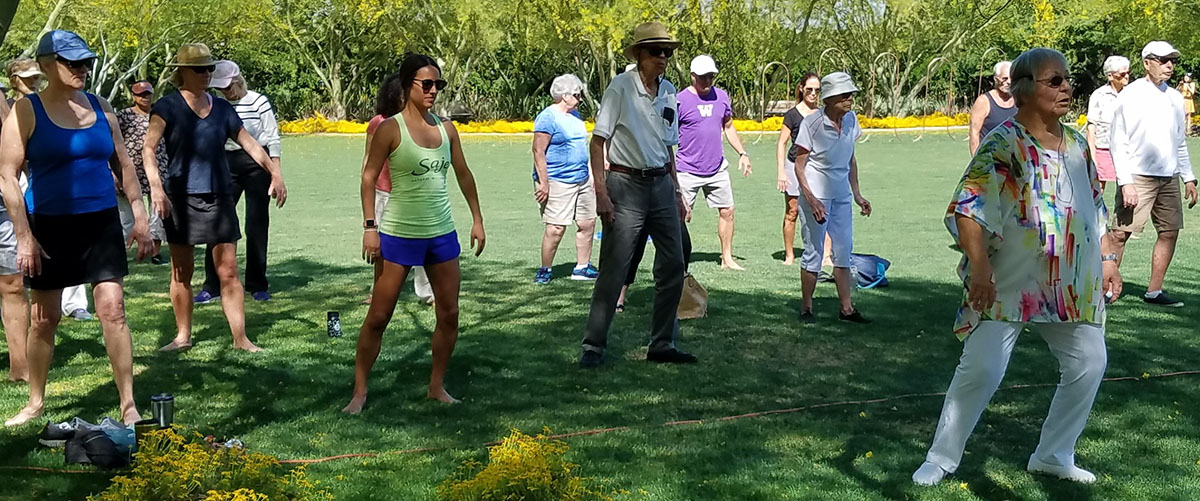 Sifu Verna Public Solo
Presented for Sifu certification
CREATE Center for the Arts, Palm Desert
May 20, 2023
Tai Chi Workshop and Demo
Palm Springs Unified School District, Palm Springs, CA
Saturday, May 20, 2023
World Tai Chi Day Celebration
Sunnylands Center and Gardens, Rancho Mirage, CA
Saturday, April 29, 2023
Annual Chinese New Year Celebration and Demonstration
Rancho Mirage Community Park, Rancho Mirage, CA
Thursday, February 16, 2023
Yang Family Form 108 Demo
Desert Regional Medical Center, Palm Springs, CA
Friday, January 24, 2023
Annual Sifu Demonstration
Sunnylands Center and Gardens, Rancho Mirage, CA
Saturday, November 12, 2022
Sifu Diane Public Solo
Presented for Sifu certification
Sunnylands Center and Gardens, Rancho Mirage
May 28, 2022
Sifu Neddy Public Solo
Presented for Sifu certification
Siesta Key Beach, Sarasota, FL
May 21, 2022
Annual World Tai Chi Day Celebration
Rancho Mirage Community Park, Rancho Mirage, CA
April 30, 2022
Sifu Doug Public Solo
Presented for Sifu certification
Sunnylands Center and Gardens, Rancho Mirage
April 23, 2022
Sifu Dawn Public Solo
Presented for Sifu certification
Sunnylands Center and Gardens, Rancho Mirage
April 23, 2022
Sifu Catherine Public Solo
Presented for Sifu certification
Rancho Mirage Community Park, Rancho Mirage
April 16, 2022
Sifu Maureen Public Solo
Presented for Sifu certification
Sunnylands Center and Gardens, Rancho Mirage, CA
April 9, 2022
Annual Sifu Demonstration
Sunnylands Center and Gardens, Rancho Mirage, CA
Saturday, November 13, 2021
Annual Student Tai Chi Demonstration
Amphitheatre at the River, Rancho Mirage, CA
March 2020
Sifu Demonstration of the Yang Family 108 Long Form
Sunnylands Center and Gardens, Rancho Mirage, CA
November 9, 2019
Sifu Virginia Public Solo
Presented for Sifu Certification
Sunnylands Center and Gardens, Rancho Mirage, CA
April 2019
Annual Student Tai Chi Demonstration
Amphitheatre at the River, Rancho Mirage, CA
February 2019
Annual World Tai Chi Day Celebration
Sunnylands Center and Gardens, Rancho Mirage, CA
April 28, 2018
Annual Student Tai Chi Demonstration
Amphitheater at the River, Rancho Mirage, CA
February 2018
Sifu Jay Public Solo
Presented for Sifu Certification
Sunnylands Center and Gardens, Rancho Mirage, CA
February 2018
Annual World Tai Chi Day Celebration
Sunnylands Center and Gardens, Rancho Mirage, CA
April 29, 2017
Annual Student Tai Chi Demonstration
Amphitheatre at the River, Rancho Mirage, CA
February 2017
Annual World Tai Chi Day Celebration
Sunnylands Center and Gardens, Rancho Mirage, CA
April 30, 2016
Annual Student Tai Chi Demonstration
Amphitheater at the River, Rancho Mirage, CA
March 15, 2016
Second Annual Sifu Demonstration
Sifu Master Lu, Sifu Darlene, Sifu Jas, Sifu Lea, Sifu Dajaun, Sifu Apprentice Judy, Sifu Apprentice Hope and Master of Chi Tony
Sunnylands Gardens, Rancho Mirage, CA
Saturday, November 14, 2015
Sifu Certification Celebration
Tai Chi Form Solos by Sifu Lea and Sifu DaJuan
Center for Spiritual Living, Palm Springs, CA
October 17, 2015
World Tai Chi Day Celebration
Student Tai Chi Demonstration, Sunrise Park, Palm Springs, CA
Saturday, April 25, 2015
Annual Chinese New Year Celebration
The Amphitheater at the River, Rancho Mirage, CA
March 11, 2015
First Annual Sifu Demonstration
by Sifu Master Lu and Certified Sifus Jas and Darlene, and Sifu Apprentice Jackie
Sunnylands Gardens, Rancho Mirage, CA
November 15, 2014
Solo Tai Chi Demonstration
by Sifu Apprentice Jas Minkel
Center for Spiritual Living, Palm Springs, CA
May 25, 2014
Solo Tai Chi Demonstration
by Sifu Apprentice Dene Nelson
Ruth Hardy Park, Palm Springs, CA
May 17, 2014
Tai Chi Demonstration
Health and Wellness Fair
Wellness Center, Palm Desert, CA
May 10, 2014
Annual New Year Celebration/Demonstration
P. F. Chang's at the River Amphitheater, Rancho Mirage, CA
March 12, 2014
Student Tai Chi Demonstration
Center for Spiritual Living, Palm Desert, CA
December 2013
Annual Chinese New Year Celebration
The Amphitheater at the River, Rancho Mirage, CA
February 20, 2013
Student Tai Chi Demonstration
Center for Spiritual Living-Palm Desert, Palm Desert, CA
Sunday, December 2, 2012 and Saturday, December 22, 2012
Student Tai Chi Demonstration
Sunrise Park, Palm Springs, CA
Saturday, November 10, 2012
Tai Chi as Moving Meditation
Student Tai Chi Demonstration
Center for Spiritual Living, Palm Springs, CA
October 7, 2012
Tai Chi for Youth
Tai Chi Lesson and Demonstration
Center for Spiritual Living Youth Program, Palm Desert, CA
August 12, 2012
World Tai Chi Day Celebration
Student Tai Chi Demonstration
Sunrise Park, Palm Springs, CA
April 28, 2012
Introduction to Tai Chi Workshop
Tai Chi Workshop for Women in Recovery
Idyllwild, CA
March 10, 2012
Chinese New Year Celebration
Student Tai Chi Demonstration
P. F Chang"s at the River, Rancho Mirage, CA
February 15, 2012
Student Solo Demonstration
Teaching Certification Tai Chi Solo and Celebration
Darlene Atteberry, Honoree
Rancho Mirage, CA
December 4, 2011
Student Solo Demonstration
July 2011
Student Tai Chi Demonstration
Old Creek House
Morongo and Hwy 111, Palm Springs, CA
May 21, 2011 and November 19, 2011
World Tai Chi Day Celebration
Student Tai Chi Demonstration
Sunrise Park, Palm Springs, CA
April 30, 2011
Qi Gong Workshop for Health and Vitality
Center for Spiritual Living, Palm Desert, CA
March 28, 2011
Celebration of Chinese New Year
Student Tai Chi Demonstration
The Amphitheatre at the River, Rancho Mirage, CA
February 9, 2011
Student Tai Chi Demonstration
Marguerita's Restaurant, Palm Springs, CA
February 2011
"Lead with Chi" Book Signing Event
Student Tai Chi Demonstration
Marguerita's Restaurant, Palm Springs, CA
December 18, 2010
Student Tai Chi Demonstration
Old Creek House Lawn, Palm Springs, CA
October 2010
Introduction to Tai Chi Workshop
Lessons and Demonstration
New Ulm, MN
August 2010
Tai Chi Demonstration
Desert Woman's Show
Indian Wells, CA
Spring 2010
Celebration of World Tai Chi Day
Student Tai Chi Demonstration
Palm Springs, CA
April 2010
Chinese New Year Celebration
Student Tai Chi Demonstration
Amphitheatre at the River, Rancho Mirage, CA
February 2010
Student Tai Chi Demonstration
Tai Chi Alchemy Workshop
Sedona, AZ
September 2009
Tai Chi as Moving Meditation
Student Tai Chi Demonstration
Center for Spiritual Living, Palm Desert, CA
Spring 2009
Introduction to Qi Gong Workshop
Center for Spiritual Living, Palm Desert, CA
April 2009
Celebration of Chinese New Year
Student Tai Chi Demonstration
P. F. Chang's Restaurant
Rancho Mirage, CA
February 2009
Student Tai Chi Demonstration
Tai Chi Alchemy Workshop
Sedona, AZ
September 2008
Student Tai Chi Demonstration
Desert Sun Health Fair
Palm Springs, CA
July 2008
Tai Chi as Moving Meditation
Student Tai Chi Demonstration
Center for Spiritual Enrichment, Palm Springs, CA
Spring 2008
Chinese New Year Celebration
Student Tai Chi Demonstration
PF Chang's at the River, Rancho Mirage, CA
February 2008
Celebration of Chinese New Year
Student Tai Chi Demonstration
PF Chang's at the River, Rancho Mirage, CA
February, 2007
Tai Chi as Moving Meditation
Student Tai Chi Demonstration
Center for Spiritual Living, Palm Desert, CA
Winter 2006